Caring for the Carer
Being a carer for a loved one who has a blood cancer can be in turn rewarding, stressful, overwhelming and isolating. 
Across Australia, more than two million people regularly care for a spouse, partner, brother, sister, parent, friend, child, or someone like you. Their care and support vary, from a couple of hours a day or week, to around the clock.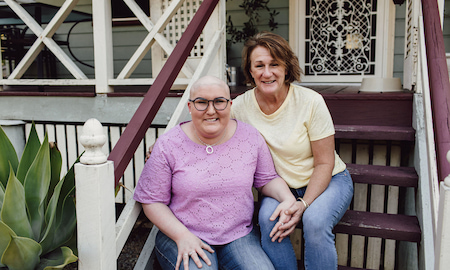 To meet the needs of those in this important role, the Leukaemia Foundation has developed an e-learning course, Caring for the Carer. It has been designed and written by our Blood Cancer Support Coordinators especially for carers of people living with a blood cancer.
Not only will completing this online course help carers to recognise and support their emotional and practical needs, it also provides access to all the services, support and guidance that is available to them.
The course has six short lessons which can be completed at one's own pace and covers the carer journey, burnout, communication, legal and financial issues, and moving forward.
Each lesson includes videos on related topics, a quiz or reflection activity, a carer's personal story, a list of related links, and a list of other content to explore the topic further.
People who complete this course will better understand the role of being a carer and its potential effect on their lives. They are taught to identify the early signs of stress, strain and burnout and are provided with strategies for managing and coping with stress and strain.
They will understand their legal and financial rights, know-how and where to go to access services and support, and will recognise that they are not alone.
Our Caring for the Carer course is free. Enrol online now here.