Opening the door to personalised care
Access to information people know they can trust is more than important, it's vital.
When it comes to conversations with treating doctors, making choices around care, and understanding how blood cancer will impact families, finances, lifestyle and mental health, getting the right answers is a must-have.
Since its pilot in 2018, we've been developing a personalised approach to blood cancer support through a new program: Cancer Concierge. One size never fits all when it comes to navigating these diseases.
This is about people living with blood cancer having direct access to customised care; understanding people's individual needs and then empowering them to access what they need, when they need it.
With your amazing support, this new program will launch in 2021, making sure that no matter where people live in Australia, and whatever stage they are at in their blood cancer, they can access a personalised program of care.
You helped Jenny navigate her diagnosis
Jenny (pictured with her son) was first diagnosed with a long-developing blood cancer called chronic leukaemia after a routine blood test.
"I got in contact with Sheila, a Leukaemia Foundation Blood Cancer Coordinator," explains the 57-year-old.
"Sheila was excellent at talking me through the terminology, what to expect with the treatment and what it means to have a chronic leukaemia.
"Shelia was just excellent and was in constant contact with me throughout the whole journey."
Trusted source of information
"How do I tell my child they've got blood cancer?"
"What exactly are clinical trials?"
"My Dad's just been diagnosed with lymphoma – what is it?"
Blood cancer comes with so many questions and unknowns.
Because of generous support from people like you, visitors to leukaemia.org.au have an up-to-date source of reliable, straightforward information, ranging from descriptions of types of blood cancer, through to issues surrounding treatment, lifestyle factors, stem cell transplants and caring for a loved one.
This year, the website has seen more than 1.5 million page views, with one million of those visitors accessing disease information.
Thank you for making this possible and ensuring families around the country can find the credible, relevant facts they're searching for.
Helping 85,000 people get the information they need
After the initial shock of diagnosis, people with blood cancer look for trusted information specific to their disease and its treatment.
Your kindness went to work this year with the regular publication of nine different disease specific newsletters, subscribed to by more than 85,000 readers.
Now available in digital format, these curated newsletters feature patient stories, interviews with haematologists and health professionals, research news, and living well articles.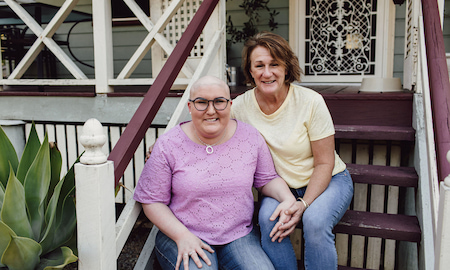 You're there for teenagers with blood cancer through every set back and victory 
Thanks to the kindness of people like you, Siobhan Hoy knew her Leukaemia Foundation family would be there for her again after a devastating relapse last year.
Siobhan was just 14 years old when she was first diagnosed with blood cancer and stayed at a Leukaemia Foundation Patient Accommodation Village while she received life-saving treatment.
"I was introduced to a Blood Cancer Support Coordinator and we just clicked straight away. They see you at your best and worst, experiencing every set back and every victory together."
See how else you're helping